Yesterday was my birthday. I was surprised by my friend with a beautiful Deruta Tuscan jug. I've always love the beautiful Italian Ceramics. The colors are so pure and clear. This is a geometric majolica piece, made by
Eugenio Ricciarelli,
one of the most gifted and original contemporary artists in Deruta.

signed by the artist, Eugenio Ricciarelli
I'm linking to Blue Monday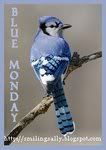 Smiling Sally: Blue Monday - All You Need to Know